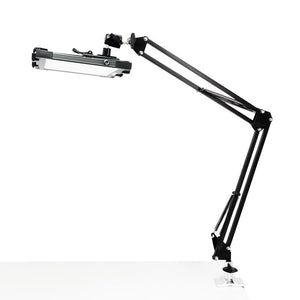 ARTICULATING ARM
Sale price Price $96.00 Regular price
Description
The Articulating Arm is the perfect Key Light accessory for those doing brows, lashes, microblading, manicures, pedicures, tattooing, sculpting… and, of course, makeup and hair!
With the included adjustable mounting bracket, any connectable heavy object can be a counter-balance for the articulating arm. This is especially helpful in places where a light stand wouldn't be practical. For example, chairs, carts, railings, bed frames, shelving, etc.
Specs
With nearly zero footprint this extremely adjustable arm will allow use of the Key Light* in ways, until now, difficult to achieve. The articulating arm gives you the ability to place the key light over virtually any type of table and have considerable height, reach, and full 360 degree motion to choose where you shine the light.
*The panel mount is adjustable and can hold many other flat objects like smart phones, iPads, tablets, etc.
The Articulating Arm also works great with the Eyelight!
Includes
*The Key Light shown in the gallery images is for example only, and is not included with the articulating arm.
The Articulating Arm includes:
One Arm
One Mounting Bracket / Arm Mounting Post
One Ball Head
One Adjustable Panel Mount
One Allen Wrench and Extra Arm Mounting Post Screw
 Weight: 1.2 Kg   Dimensions: 60.96 x 30.48 x 10.16 cm.